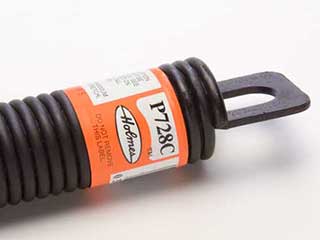 Did you ever wonder how your garage door is able to open and close so effortlessly? The door uses a system of "muscles" that support its weight and do the actual heavy lifting. Although your opener does play a crucial role, your door could still work without it, and you won't have to support its weight yourself to compensate. That is what the garage door springs are in charge of.
How Do They Work?
There are really only two different types of springs that are commonly used today. Extension springs work by stretching when the door closes, which forces them to store tension inside their coils, which they later use to contract and pull the door back up when it needs to open. They are installed perpendicular to the door, in a pair, one on each side. Because of the way they work they are considered the more dangerous of the two types. Torsion springs are the often preferred alternative. They are the newer option and are more durable and flexible. Units of this type are installed horizontally above the door, with one end of them secured in place and the second end able to rotate. They twist and generate torque, which they then convey to cable drums and lift cables who - you guessed it - lift the door off the ground. Usually, these springs are strong enough that only one of them needs to be installed.
The Potential Dangers
Don't let the appearance of your springs fool you. These components can be incredibly dangerous to handle, especially when they break. The full weight of your door often relies on these components, so aside from the fact that you won't be able to use it if these crucial components break, the door may end up falling on you if you try to move it. Extension springs are often attached with safety cables to secure them in place in the event they break, as they can go flying and will seriously injure anyone that ends up in their way. For these reasons, spring adjustment and replacement must only be performed by professional technicians. That's where we come in.
The Right Service
Our team at Garage Door Repair Oceanside can provide you with a regular spring maintenance service that will reduce the wear and tear these important components go through and increase their working efficiency. If you find yourself dealing with any type of spring related problem, don't hesitate to reach out to us as soon as you can.
Need more? We also provide:
Garage Door Tune Up Services
New Opener Remote Controls
Garage Door Cable Replacement
Bent Garage Door Track Repair