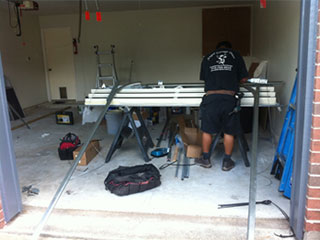 There are a lot of things that can cause your garage door to breakdown. Complex mechanical systems of this type suffer through a lot of wear and tear, and if you add the chance of an unexpected accident, the odds of something going wrong with your door can be pretty high. Of course, there are some things you can do to mitigate these risks, like make sure that the system receives regular maintenance. But if something does suddenly go wrong, you need to reach out to our team to get the problem fixed as soon as possible.
Complex Spring Problems
The springs that help your garage door move are under a lot of stress, and they can and will eventually break if they aren't replaced in due time. Broken spring replacement is something our team specializes in. This procedure requires a lot of skill and experience, so if you find yourself facing this type of a scenario, know that we're here to help.
Effective Opener Repairs
The motorized unit that powers the movement of your door can experience its fair share of issues. If the opener's motor gear wears out, or some part of its drive system breaks, our team will be able to fix it. If the damage is beyond repair, we'll replace the problematic component and make sure that the unit is able to keep functioning properly afterwards.
Track And Roller Issues
Misaligned tracks and worn out rollers are some of the most common problems that a residential garage door can experience. Luckily for you, our team can realign both your horizontal and vertical tracks and replace any worn, broken or misshapen roller that may be hindering the performance of your door. Bent tracks are another cause for concern. This type of problem can lead to a situation where the door gets off track. Of course, this is another thing we can help you with, as well as any panel or hinge related issue.
Call Us For Anything
If it's a matter of dealing with a cable that got off the drum, a damaged panel that needs to be replaced or simply a door that keeps reversing for no apparent reason, you need to reach out to our team at Garage Door Repair Oceanside. We can handle any type of problem, big or small.
Count on our team for:
Garage Door Opener Maintenance
Belt Drive Garage Door Openers
Oil Tempered Torsion Springs
Emergency Garage Door Services